The Child Safety Department, an affiliate of the Supreme Council for Family Affairs in Sharjah (SCFA), recently held two workshops engaging 170 nurses working in private and public schools, child care institutions, and sports clubs to raise their awareness about identifying signs of child abuse and violence.
The workshops were held in collaboration with the Ministry of Interior. Attendees were briefed on standard operating procedures of federal entities in charge of treating children who have suffered abuse, in addition to identifying the victim's psychological traits. Participants were also introduced to local and federal laws regarding child abuse.
The workshops were delivered by Major Obaid Al Mansouri, Head of Awareness and Prevention Department at MOI Child Protection Centre, and Cindy Daoud, Child Safety Expert in both in Arabic and English to reach a wider target group.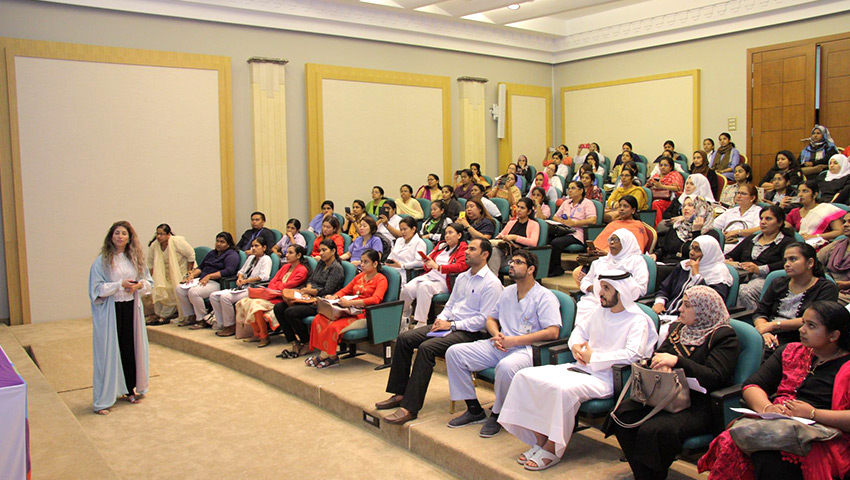 Training on how to respond when identifying physical, sexual, emotional abuse, and cases of negligence for children residing or visiting the UAE was offered. Participants were introduced to child protection laws at home and abroad and learned about the specific role of police authorities in dealing with and investigating cases of different nature.
The instructors highlighted that UAE's child protection laws are aligned with the UN's Convention on the Rights of the Child, which defines a child as a person under 18 years of age, which corresponds with the country's child protection law no. 3, popularly known as Wadeema law.
Additionally, the workshop highlighted the important role of parents and educational institutions in preventing untoward behaviours and resolving issues that do not rise to abuse, such as fighting and bullying which can be tackled and resolved within the school administration.
Hanadi Saleh Al Yafei, Director of Child Safety Department, said: "These workshops are part of our ongoing mission to work with all entities concerned and focused on child protection in the country. Our aim is to raise awareness of individuals when it comes to laws protecting our children in order to reach a stage where everyone under 18 are aware of their rights and can identify and address any kind of abuse they may face.
"During the workshops, nursing professionals were taught how to identify potential abuse cases at schools, nurseries and other venues, and the proper way to report them to the concerned authorities, due to the important nature of their work that puts them in direct contact with children."