A high-level Sharjah delegation led by the Executive Office of Her Highness Sheikha Jawaher bint Mohammed Al Qasimi (HHEO), has met with a number of high-ranking officials in Sweden to exchange expertise with Swedish children's welfare institutions which work towards the development of a safe and creatively stimulating environment for children and young adults.
The delegation comprised a number of organisations including: Rubu' Qarn for Creating Future Leaders and Innovators, Child Safety Campaign – an affiliate of the Supreme Council for Family Affairs (SCFA), and the Sharjah Social Services Department (SSSD).
In its continuous mission to explore and apply the world's most progressive and successful gender equality issues, children and youth development and entrepreneurial opportunities, the delegation comprising HE Afaf Al Marri, Chairperson of Sharjah Social Services Department; Erum Mazher Alvie, Senior Advisor at HHEO, and Board of Trustee Member, Rubu' Qarn for Creating Leaders and Innovators; Hanadi Saleh Al Yafei, Department Director at SCFA, Head of the Organising Committee of the Child Safety Campaign; Fatima Al Marzouqi, Director of Social Care Center for Children at SSSD; and Jassem Al Blooshi, Board of Trustee Member, Rubu' Qarn for Creating Leaders and Innovators, met several Swedish state entities, private corporations and non-profit organisations dedicated to issues affecting families and children.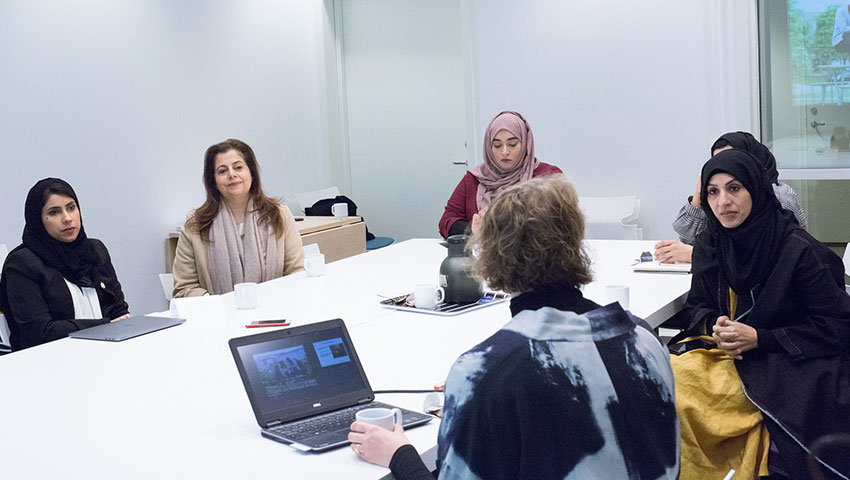 In the course of the visit, the Swedish officials shared the nation's history, its incentive programmes for young entrepreneurs, its child protection policies, youth empowerment and its vision for future generations.
Among the child welfare insights provided during the three-day tour, the representatives were introduced to the university-led research project 'The Politics of Parenting Support', which analyses the historical development of parenting in Sweden.
The delegation's visit to Sweden's child protection service centre, Barnahus, was a follow-up to the visit of Her Highness Sheikha Jawaher bint Mohammed Al Qasimi, Wife of His Highness the Ruler of Sharjah and Chairperson of SCFA in 2015. They met the Stockholm Manager, Anna Friberg, and learned more about the centre's pioneering environment for children who have been victims of crime and abuse, where they can describe their experiences in a non-threatening atmosphere for the benefit of investigations by social services, the police, the public prosecutor's office, child psychiatrists and psychologists.
The centre facilitates all police cases including child abuse and child safety issues through a team of specially trained police officers who only work through the center to investigate and resolve cases, and dedicated state prosecutors who offer speedy justice to young victims. Barnahus' child protection services team offers specialised psycho-social support and a medical team to record and reports signs of physical abuse – all these government bodies work through Barnahus to ensure child safety and reintegrate those affected back to a healthy life.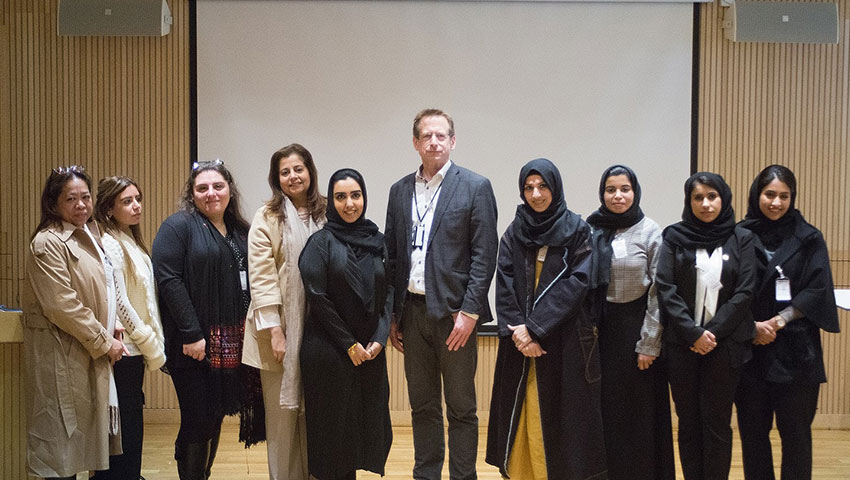 HE Afaf Al Marri stressed the importance of this visit in how it offered the Sharjah delegation an opportunity to take a closer look at Sweden's leading practices in areas of social welfare, especially for children, how they are offered social and psychological support with an emphasis on creating an environment that appreciates and respects the differences between them. She underlined that the visit was quite effective in the way it allowed both parties to find common grounds for the exchange of experiences and expertise.
For her part Hanadi Saleh Al Yafei said: "Sweden has a well-deserved reputation in leading a welfare state system that is based on equality, justice, community harmony, family relations, and most importantly a foundation to nurture a sense of belonging for the future. We were introduced to all issues related to child protection in Sweden, and gained an understanding of a diversity of knowledge, expertise and techniques they are required to apply to children who come from many different cultures and backgrounds."
During a visit to the Social Insurance Agency in Sweden, a government agency that is responsible for parental benefits, housing allowance, child allowance and maintenance support, Niklas Löfgren, Family Economics Spokesperson at the Agency, presented the Swedish perspective, saying: "I would definitely say that we have come a long way with developing the Swedish welfare system with laws that ensure that children are well protected and their rights are defended. What is important to remember here is that it is a system which has taken more than 100 years to evolve. It has not happened overnight; taken shape slowly but surely over a long period of time and while there is still some work to do, we have progressed well in ensuring families and children are well taken care of."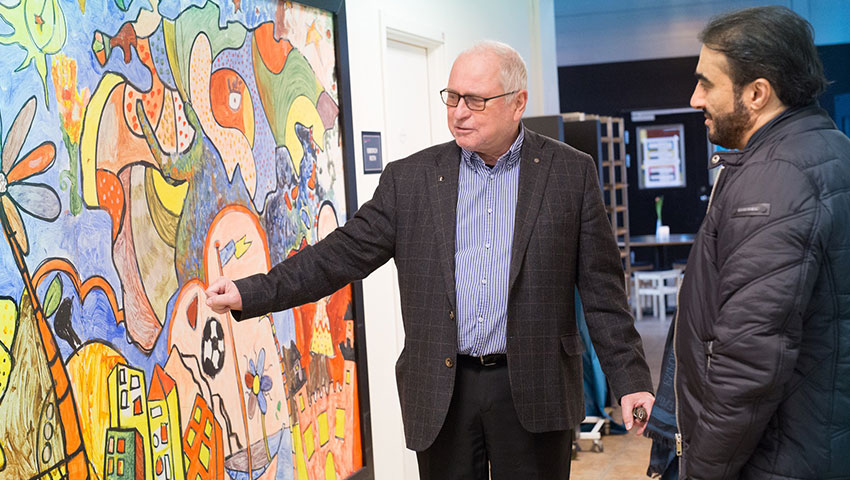 Also on the tour agenda, was a visit to Fryshuset, often referred to as the largest youth centre in the world, working with youth on a wide range of issues across mostly urban areas in Sweden. The main objective of this visit was to gain an insight into what kind of entrepreneurial services and support it offers to youth keen on exploring entrepreneurial opportunities, and how the organisation tackles a wide range of issues mostly across urban areas in Sweden. Raisa Velazco, Global Development Manager, Fryshuset, conducted a presentation and led the delegation on a tour of the facility.
Jassem Al Blooshi expressed delight about the visit, highlighting how it offered Rubu' Qarn for Creating Leaders and Innovators an opportunity to become acquainted closely with the Swedish experience in the care and support it provides for young people to be involved in various sectors of entrepreneurship, adding that these goals are in line with the vision of Rubu' Qarn to build a distinctive and creative generation of inspiring and influential leaders who contribute to the continuous progress and sustainable development of the UAE.
Other members in the Sharjah delegation included representatives of several entities including Sheikha Hind bint Majed Al Qassimi, Acting Chairperson, Sharjah Business Women Council (SBWC) – an affiliate of NAMA Women Advancement Establishment (NAMA); and Nada Al Lawati, Executive Board Member, NAMA.
In 2015, Sharjah was awarded the title of the world's first 'Baby-Friendly City' by the United Nations Children's Fund (UNICEF) and World Health Organisation, followed by UNICEF's announcement last year on making Sharjah the region's first candidate for the organisation's 'Child Friendly City' Initiative under its new guidelines. These accolades testify the emirate's continuous efforts to include children's rights as a key component of government policies, programmes and structures.