In 2020, the Child Safety Department in Sharjah raised awareness of COVID-19 and other safety issues through virtual workshops, campaigns, and other activities
For immediate release
Sharjah, December 29, 2020
"2020 has been the year of changemakers, inspiring a culture of solidarity and sharing across continents. This was evident in the UAE, where the government's large-scale, coordinated and comprehensive rapid response to manage the COVID-19 pandemic has ushered in a more resilient future for all its people," said Hanadi Saleh Al Yafei, Director of the Child Safety Department, an affiliate of the Supreme Council for Family Affairs in Sharjah.
She continued: "At the Child Safety Department, our efforts were driven towards responding quickly and effectively to the safety needs of families and children during the pandemic. The department offered interactive activities and informational workshops to spread awareness messages that echoed the UAE government's policies designed to encourage families to stay at home and abide by physical distancing and safety measures, while also helping them navigate the safety concerns for their children's physical and emotional wellbeing."
Targeting more than 12,700 children, youth, and parents since January 2020, the Child Safety Department successfully hosted more than 85 virtual activities comprising educational and fun workshops, awareness campaigns, competitions, and e-booklets.
"We focused on making our content and activity offerings interactive, engaging, and suitable for different age groups. CSD partnered with several local and federal institutions to present the highest-quality content created by experts on topics ranging from strengthening family bonds, emotional and mental health, home safety, cyber safety, and more, using virtual conferencing and social media platforms," Al Yafei continued.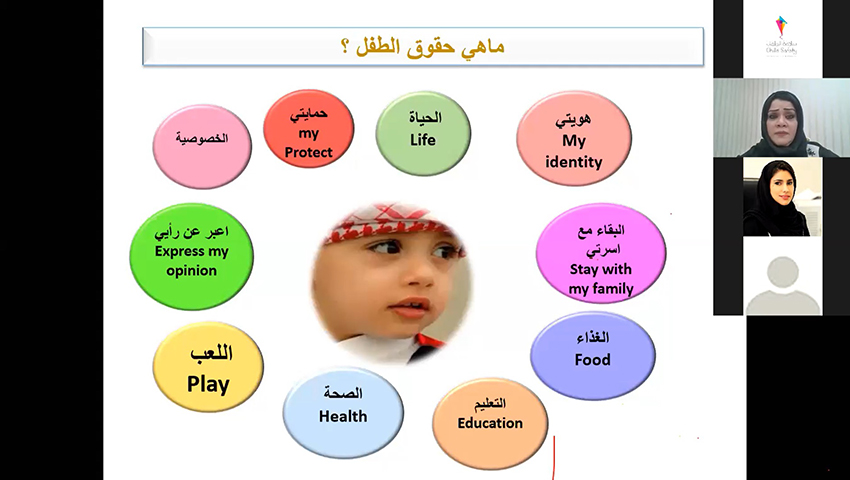 Some of the key achievements of CSD in 2020 are summarised below:
Awareness e-booklets
CSD released four awareness and safety e-booklets in English and Arabic, namely, 'Home Safety', 'Child Behaviour in Ramadan', 'Distance Learning', and 'Back to School'. These were distributed to students to raise their awareness on various topics and to encourage positive behaviour.
The Home Challenge competition
CSD launched the Home Challenge competition in collaboration with Sharjah Police to encourage children to utilise their leisure time spent at home during the pandemic by improving and mastering their hobbies.
Mental health and emotional wellbeing
CSD hosted two workshops to promote awareness and to support and protect the mental health and emotional wellbeing of children and parents during the pandemic. Presented by clinical psychologists, the workshops offered tips on managing children's fears and anxieties while parents also learnt how to maintain their calm during the challenging period to ensure their children's wellbeing. A third workshop was organised for more than 70 children and youth in collaboration with Friends of Cancer Patients, and Al Jalila Children's Specialty Hospital, and revolved around the importance of maintaining mental health.
My Safety… My Future
In response to children's prolonged hours of stay at home, CSD launched an awareness campaign on social media platforms titled 'My Safety… My Future'. The campaign raised awareness about safety in the home and explored aspects of kitchen safety, fire prevention, dealing with emergencies, safety in the swimming pool, and cyber safety, amongst others.
Awareness Videos
In collaboration with the Health Education Department, CSD produced and published nearly 20 awareness videos on their social media platforms that offered tips and guidance from specialist doctors on various topics related to children's safety, such as suffocation, ingestion of foreign objects, burns, and dental care. It also emphasised the need to keep medicines out of children's reach, using child car seats, and highlighted the effects of lack of sleep on children's health.
Virtual Summer Camp on Child Safety
At a two-month virtual summer camp organised by CSD, more than 5,400 children, school staff, and parents attended 20 online sessions that discussed different child safety topics including first aid skills, home safety precautions, and children's rights. Informative workshops were also held that explored ways to raise a creative child, techniques of instilling confidence in children, importance of cyber safety, tackling bullying, interacting with strangers, and preparing children for the eventual return to a post-COVID-19 world.
Cyber Safety Ambassadors
Members of CSD's Cyber Safety Ambassadors programme helped create educational videos on the ethics of using the digital distance-learning platforms, while a series of virtual workshops were conducted by the ambassadors in Arabic and English with a focus on cyber bullying as part of the UAE's National Bullying Prevention Week.
Interactive workshops
The CSD hosted a series of interactive activities and talks throughout the year, including a panel discussion for parents and caregivers on how to design a summer programme for children and youth at home. Another workshop offered students and parents tips on how to prepare themselves to go back to school and cope with stress.
During the UAE's annual National Bullying Prevention Week in November, CSD organised two training sessions focusing on bullying among children and workplace bullying for 150 employees of the Rubu' Qarn Foundation for Creating Leaders and Innovators, as well as a series of 12 informational workshops that targeted more than 1,000 children and parents.
CSD organised virtual storytelling sessions for more than 1,000 primary school students, where CSD's children's books focusing on different safety topics were read aloud. The department also organised awareness sessions on children's rights for members of youth sports clubs in Sharjah.
Recognising the importance of institutional collaboration and the consolidation of efforts to reach shared goals, CSD has partnered with different local and federal entities to organise its activities and events in 2020, including the Ministry of Education, the Khalifa Empowerment Program (Aqdar), the Telecommunications Regulatory Authority, the Emirates Child Protection Association, Sharjah Police, Sharjah Private Education Authority, Sharjah Prevention and Safety Authority, the Health Education Department, Sharjah Healthy City and Sharjah Child Friendly Office.