The Child Safety Department, a subsidiary of Sharjah's Supreme Council for Family Affairs (SCFA), has trained 14 members of its 'Cyber Safety Ambassadors' initiative to sharpen their public speaking skills, focusing on specific personality traits like confidence, stance and body language, which make effective public speakers.
The department collaborated with Sharjah Broadcasting Authority (SBA) to organise the training session which is part of their ongoing efforts to train school students (11 – 18 years) with skills pertaining to internet safety best practices, who will in turn educate their peers. Part of the initiative's mandate is to develop the ambassadors' communication and presentation skills, which this two-day training workshop was designed to do.
Seham Cherif, a journalist and personal development expert at Sharjah TV, led the sessions teaching participants ways to overcome their fear of facing the public and speaking with confidence. She also guided them on mastering the ability to communicate messages effectively, deliver them conviction and body-language control, in addition to knowledge transfer enabled through direct and positive communication techniques.
Hanadi Saleh Al Yafei, Director of Child Safety Department, said: "The training session was an important step towards upskilling our cyber safety ambassadors improving their confidence and conviction during public interfaces. We want to prepare them to play a vital role in raising their peers' awareness about cyber safety and fulfill this initiative's overarching goal of establishing safe internet practices among children and youth".
"We thank Sharjah Broadcasting Authority for supporting the Cyber Safety Ambassadors initiative with their media and communications expertise, and laud their efforts to ensure the continued success and sustainability of the UAE's media sector by supporting our child protection and care programmes."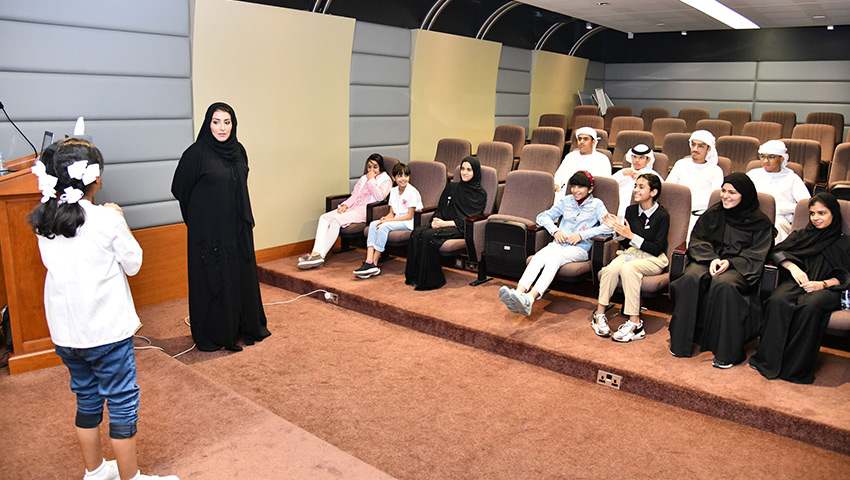 The workshop included an assessment of participants' strengths, weaknesses and specific requirements, their existing public speaking skills, voice control techniques, knowledge of the topic, their general awareness levels and their ability to influence others. The assessment was followed by training sessions on body language control and conduct before real studio cameras.
Following an assessment of the first day's results, trainees visited the set of Sharjah TV's daily morning talk show, 'Sabah Al Shariqah' on day two, to overcome their fears of facing the public or studio cameras.
CSD launched the Cyber Safety Ambassadors initiative on the occasion of Emirati Children's Day in March 2019, in cooperation with the UAE Telecommunications Regulatory Authority (TRA), Ministry of Community Development, Khalifa Empowerment Program (Aqdar), and Sharjah Police Headquarters. It aims to empower the UAE's youth to deliver awareness messages to their peers about cyber safety best practices.