Personnel from three entities under the umbrella of Rubu' Qarn Foundation
for Creating Leaders and Innovators attended training programme
For immediate release
Sharjah November 18, 2020
The Child Safety Department (CSD), an affiliate of the Supreme Council for Family Affairs (SCFA) in Sharjah, has collaborated with the Ministry of Education (MoE) to deliver a training programme on child and workplace bullying to more than 150 employees from three entities operating under the umbrella of Rubu' Qarn Foundation for Creating Leaders and Innovators (Rubu' Qarn).
The programme comprised two workshops, and aimed to equip employees with practical skills and guidelines on how to identify and resolve cases of bullying, and prevent them as part of their programme offerings for young members.
The first workshop was conducted by Aisha Al Kaabi, Education Quality Development Officer, MoE and attended by 85 employees from Sharjah Children, while the second was delivered by Bakhita Al Dhahiri, Social Worker at Shamma Bint Mohammed Primary School, and saw the participation of 68 employees from Sajaya Young Ladies of Sharjah and Sharjah Youth.
Focusing specifically on bullying faced by children and bullying at the workplace, the two workshops introduced participants to its definition, common characteristics and behaviour of bullies, as well as the different types of harassment, spanning racial, physical, social, verbal and cyberbullying.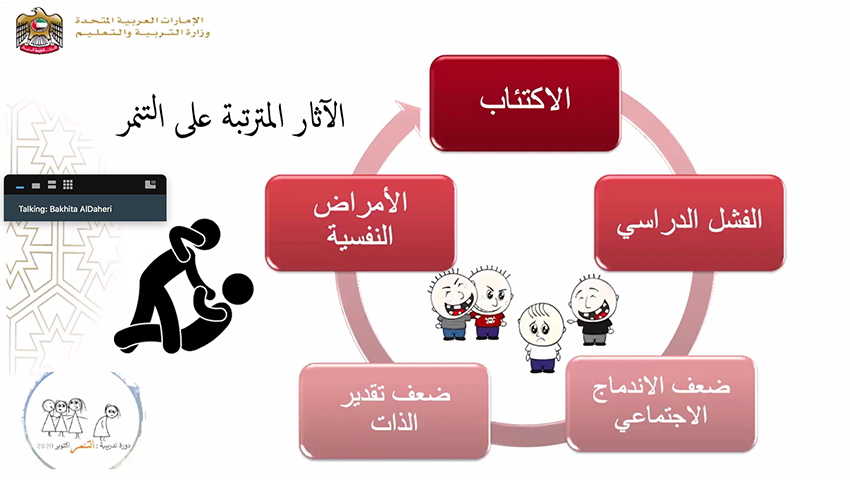 The sessions underscored the common traits of school bullies, and highlighted the physical, emotional and behavioral symptoms experienced by victims. The workshop presenters explained that examples of physical symptoms include those often associated with stress – headaches, stomachaches, changes in appetite and unexplained injuries. Psychological symptoms, they said, often include sadness and sleeping difficulty, and lead to behavioral issues in victims, resulting in academic failure, impaired relationships and low self-esteem.
The two experts offered tips on how effective interventions can be made to stop a child from being bullied, explaining that the matter must be taken seriously upon becoming aware and those handling the victim must encourage them to open up about it. Remaining calm and supportive, and reassuring the child that he or she is not to blame for being bullied is crucial to the redressal process. Moreover, the child's teacher at school must be contacted to know the reasons behind classroom bullying to stop it, they stated.
The workshop highlighted the need to teach younger generations how to deal nicely with their peers and not bully them in any way. It also provided attendees references to successful international programmes which can be implemented at their respective entities to resolve and prevent cases of bullying.
Workplace bullying was the other key topic of the workshops. Attendees were made aware of the types of bullying at work, including mistreatment of co-workers leading to either physical or emotional harm. Deliberately excluding, isolating or marginalising an employee from the workplace, promoting a culture of gossip, undermining others' work, and abuse were also highlighted as unacceptable workplace behaviour. Participants also learned that bullies sometimes do not even realise that they are perpetrators of workplace harassment, or try to undermine the impact of their behaviour, justifying it as frankness, humour, harmless teasing or even giving advice.
Elaborating on the consequences of bullying at the workplace, the workshop introduced its attendees – both employees and heads of departments at Rubu' Qarn Foundation – to best practices to prevent and stop bullying to create a productive and motivating work environment.