The Child Safety Department (CSD), a subsidiary of the Supreme Council for Family Affairs (SCFA), conducted 12 educational workshops for children and youth at various schools and centres in Sharjah on bullying and how to prevent it.
The workshops were held in conjunction with the UAE's second National Bullying Prevention Week, which is organised by the Ministry of Education (MoE), in collaboration with the Supreme Council for Motherhood and Childhood, and in partnership with 25 local and federal entities under the theme 'Flourish Together'.
Conducted by Nahla Hamdan Al Saadi, Director of Events and Activities at CSD, the workshops targeted 590 students form eight schools, and various 'Sharjah Children' centres in Al Khalidiya, Al Riqqa, and Mughaider. The workshops saw great engagement from children, families and teachers.
The workshops enabled children to better understand the concept of bullying, the characteristics and behaviours of bullies and the key strategies that victims should adopt when facing bullying, which is simply defined as a deliberate and repeated aggressive behaviour by a student or group of students, with the intention of causing harm to victims, involving an observed or perceived power imbalance, with victims' inability to react or defend themselves.
Nahla Hamdan Al Saadi said: "Bullying in schools has become one of the key issues of concern worldwide, given its devastating negative impact on children, their academic performance and sometimes their decisions to drop out of school. UNESCO's new Global Status Report on School Violence and Bullying indicates that more than one billion children around the world attend school and an estimated 246 million children and adolescents experience school violence and bullying in some form every year. It is a terrifyingly large number that compels us to further our concerted efforts to prevent and fight this issue."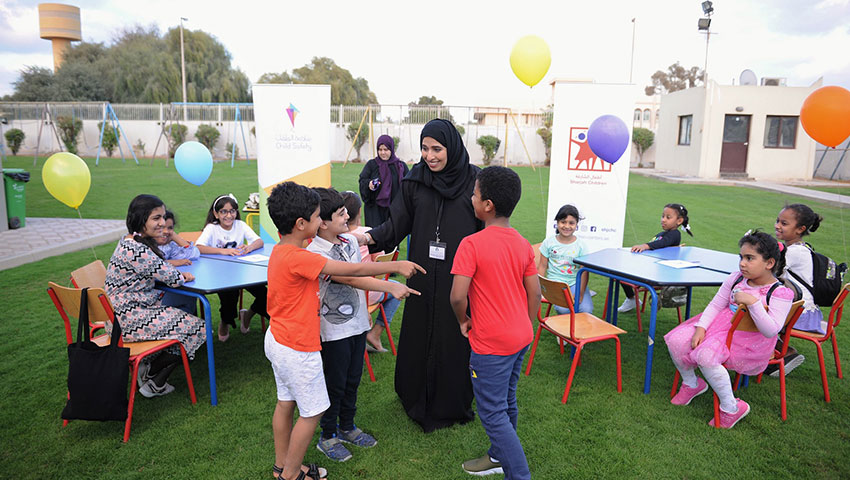 "In these workshops, we focused on raising awareness among children on the three key types of bullying. Verbal bullying includes insult, cursing, name calling, teasing, harsh criticism and taunting. Social bullying comprises threatening, rude hand gestures, social exclusion and deliberate disregard. Physical bullying includes hitting, tripping, pushing, throwing or taking someone's belongings, and inciting others to assault," she added.
She pointed out that the CSD was keen to instil the concept of tolerance and social cohesiveness in children, given that it is the cornerstone of building healthy relationships among children and enhancing social stability. She commended the productive collaboration with 'Sharjah Children', a subsidiary of Rubu' Qarn for Creating Leaders and Innovators.
The Second National Bullying Prevention Week is organised by the Ministry of Education (MoE), in collaboration with the Supreme Council for Motherhood and Childhood, under the patronage of H.H Sheikha Fatima Bint Mubarak, Chairwoman of the General Women's Union, Supreme Chairwoman of the Family Development Foundation and President of the Supreme Council for Motherhood and Childhood. Throughout the week, a host of trained educators and consultants visit public and private schools, as well as children's centres to conduct an array of workshops, lectures and seminars on the most effective ways to prevent bullying.