Hanadi Saleh Al Yafei: "Kanaf will make a real difference to every child and young person in Sharjah, knowing that there is help available when they need it most."
For immediate release
Sharjah, August 30, 2020
The Child Safety Department (CSD), an affiliate of the Supreme Council for Family Affairs in Sharjah, held a meeting recently with Barnahus Stockholm, an interagency centre for cases of violence and abuse against children, to exchange ideas about ways of adopting the Barnahus model to establish Kanaf, an interdisciplinary, multi-agency child protection centre, in Sharjah.
CSD's Kanaf project, meaning 'protection' or 'care' in Arabic, will bring together forensic, child protection, medical, therapeutic, and policing services in a child-centred way, when child abuse or violence has occurred or is suspected.
The establishment of Kanaf was directed last April by Her Highness Sheikha Jawaher bint Mohammed Al Qasimi, wife of His Highness the Ruler of Sharjah, Chairperson of the Supreme Council for Family Affairs in Sharjah, to serve as a protection centre for child victims of physical and sexual abuse.
It will be informed by international best practices and is based on learnings from the 'Barnahus' model in Iceland which has been in place since 1998 using a child-friendly response to child abuse under one roof. When fully operational, it will ensure close coordination and cooperation between key services, and support families in caring for their child throughout a difficult process.
Kanaf was formulated following a visit by Her Highness Sheikha Jawaher bint Mohammed Al Qasimi to the Barnahus Stockholm centre in 2016, followed by a second visit by a team of officials from child protection organisations in Sharjah in 2018 to evaluate the core elements and format of the Nordic model.
With the CSD now moving forward to implement the project, a team comprising Hanadi Saleh Al Yafei, Director of CSD, held a virtual discussion with Barnahus Stockholm Manager Anna Friberg; and their Police Inspector/Group Leader, Maria Gorosch, to exchange ideas regarding the setting up of the centre.
The Swedes were given a rundown on the Kanaf centre that is envisaged as a centralised unit run with inputs involving four departments: Sharjah Forensic Administration; Sharjah Public Prosecution; Sharjah Social Services Department's Children Rights Protection Administration; and the Criminal Investigation and Social Support Departments at Sharjah Police. The services will be targeted at children aged 0 – 18 years regardless of religion or nationality.
The meeting entailed CSD officials conducting a thorough investigation of the Barnahus Stockholm process, to identify elements that would best integrate into the Kanaf child protection programme, and add value to its services.
Since the first Barnahus model was established in Iceland, the number of child victims coming forward for help more than doubled each year, and has since been exported to Sweden, Norway, Greenland, and Denmark, with pilots planned in Finland and Lithuania.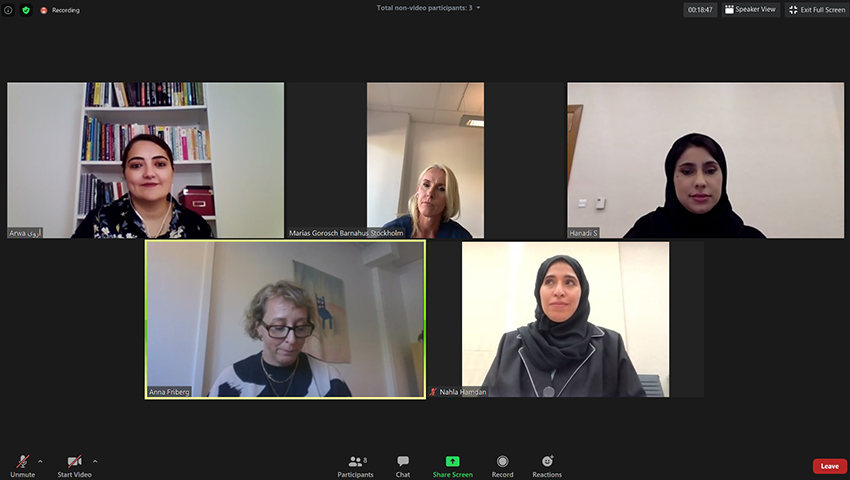 Hanadi Al Yafei, Director of CSD, said: "We were very keen on once again meeting with our colleagues at Barnahus Stockholm, who have been important resource since we envisioned the Kanaf child protection centre for Sharjah. Kanaf is the outcome of the Sharjah leadership's vision to fully secure the rights and wellbeing of every child in the emirate until they reach adulthood. The centre will make a real difference to every child and young person in Sharjah, knowing that there is help available when they need it most."
Thanking Barnahus' officials for their openness and transparency, Hanadi Al Yafei further added that the meeting made for the perfect opportunity for CSD to benefit from Barnahus' child protection practices, and at the same time, pick up on essential learnings they gained from the challenges they faced.
Anna Friberg, Barnahus Stockholm Manager, said: "We at Barnahus Stockholm find it gratifying and encouraging to take part in the development in Sharjah where we have had the opportunity to inspire. We see it very positively that Sharjah has chosen to develop a Barnahus-inspired model from scratch where they have the opportunity to work on the basis of the child's best interests and create a child-friendly environment for the children who are exposed to violence and abuse."
Through the course of the meeting, Friberg explained that Barnahus Stockholm approached abused children through the local Social Services department that liaises with schools and police stations.
Noting that Barnahus Stockholm has strict recruitment rules, she elaborated that a special application process followed by rigorous training leads to the formation of Barnahus' core team comprising police personnel, doctors and nurses, sociologists, psychologists and social workers, who all come with several years of relevant experience.
Gorosch explained that Barnahus Stockholm sets up multidisciplinary meetings to discuss cases and decides when to hold forensic interviews, if required, and follows up with establishing a timeline for treatment and action on a case-to-case basis.
The two parties also exchanged notes on child-friendly standards and elements that could be incorporated into these interview rooms, as well as procedures to admit children into the centre. Gorosch noted that Barnahus' facilities conform to the Swedish national standards for a child friendly environment, with the premises designed to be open, wide and welcoming.