The Child Safety Campaign (CSC), an initiative of the Supreme Council for Family Affairs (SCFA), has signed a Memorandum of Understanding with South West Grid for Learning (SWGfL), a not-for-profit charitable trust providing educational online services, and strategic partner of the UK Safer Internet Centre.
The MoU emphasises CSC's commitment to strategic partnerships with local and international organisations in order to reinforce children's cyber security and promote the safe and responsible use of technology among youngsters.
The MoU includes sharing ideas, educational content and technical information plus cooperating on best practices and preventative actions which have been successfully applied in more than 32 European countries. The agreement also stipulates developing a set of standards to enable parents, professionals and educators to guide children on safe internet usage even more effectively.
The MoU was signed by Hanadi Saleh Al Yafei, Department Director of SCFA and Head of the Organising Committee of CSC and David Wright, Director of the UK Safer Internet Centre, as representative of SWGfL.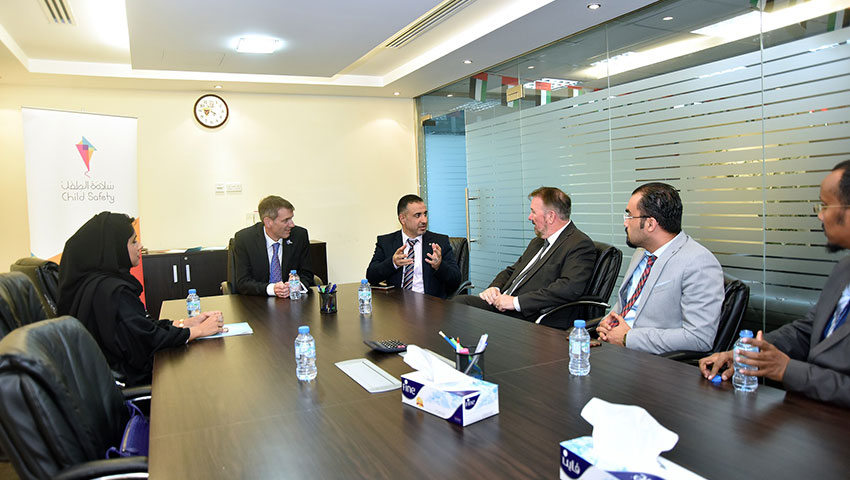 Hanadi Saleh Al Yafei said: "The safety of children when they are online is one of the primary concerns of our times. Whether it is in terms of the security of personal information or moral protection, there are a significant number of risks posed by irresponsible users and we need to implement technical boundaries, promote awareness and develop understanding."
"Signing this MoU is very much in keeping with the directives of Her Highness Sheikha Jawaher bint Mohammed Al Qasimi, Chairperson of the SCFA and wife of His Highness the Ruler of Sharjah. Her Highness has always urged us to build partnerships, extend bridges of cooperation and exchange expertise with relevant international organisations, as well as to develop effective work mechanisms and training methods to provide the highest levels of protection for children," she added.
The MoU comes as part of the third edition of the Child Safety Campaign, which was launched in March 2017 under the slogan 'Child Safety in Cyberspace'. The campaign is aimed at children, parents, teachers and internet experts and seeks to highlight the vital role played by community organisations to protect children from social media hazards and ensure they stay safe online.