The Child Safety Campaign (CSC) has initiated its third phase under the theme 'Child Safety in Cyberspace', which targets children, parents, school teachers, educators and experts, with the aim of highlighting the vital role played by community organisations to spread the campaign's message to protect children from social media hazards and ensure they are safe online.
The third phase, which was launched during a press conference at Al Jawaher Reception and Convention Centre (JRCC) on Monday, is focussing on cyber security for children, given the fast-growing number of potentially dangerous websites and the increasing number of children with access to them.
Presented by 12 year-old Mayed Almer, the youngest Emirati reporter, the conference saw the attendance of Her Excellency Khawla Abdul Rahman Al Mulla, Chairperson of the Sharjah Consultative Council (SCC), His Excellency Khamis Bin Salim Al Suwaidi, Chairman of Sharjah Districts and Villages Affairs Department, Rashid Al Kous, General Manager of Knowledge Without Borders, Mohamed Nasser Al-Hazza, Director General of Emirates Industrial City, and a host of media representatives.
The campaign receives great support from the wife of His Highness the Ruler of Sharjah, Her Highness Sheikha Jawaher bint Mohammed Al Qasimi, Chairperson of the Supreme Council for Family Affairs, who sent a message to all individuals and families as well as government and private organisations, where Her Highness said: "Our shared human experience has taught us that the future is determined by the present. In order to create a bright future for us all, we must therefore enhance our commitment to the here and now.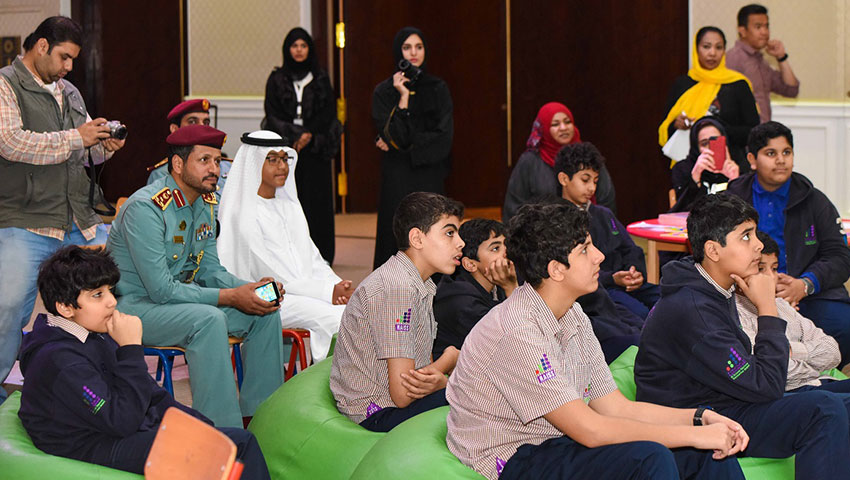 "Since its inception, the Child Safety Campaign has sought to build a better future by establishing the foundations of a knowledge-based society and by creating an environment where children can thrive. This initiative was conceived in recognition that today's younger generation is the nation's leadership tomorrow and comprises the citizens who will be taking our society forward. We place our hopes, aspirations and ambitions in our young people, so it is incumbent upon us all to contribute to building a prosperous and sustainable future by ensuring their safety and protecting their dreams."
"The physical, intellectual and psychological protection of our children is not only the responsibility of parents, but also the duty of all social, cultural and educational organisations in our country. By ensuring a safe and nurturing environment for our children today, we will reap the rewards through enhanced knowledge, leadership and progress tomorrow."
"The commitment to care for and protect our children is not only realised by providing young people with security, but we must safeguard all members of our society, in particular mothers, who are the backbone of the family and the vital pillars of our community. By ensuring the safety of our children, and supporting our present, we will build a brighter future."
Hanadi Saleh Al Yafei, Head of the Organising Committee of the Child Safety Campaign, and Department Director at the Supreme Council for Family Affairs, said: "The third phase of the campaign is built on the successes of the previous two, under the guidance and patronage of Her Highness Sheikha Jawaher bint Mohammed Al Qasimi. Thanks to Her Highness' immense support, we have managed to make a real difference to the lives of many children and reinforce the importance of parents' care and their awareness of their children's health and safety."
She explained that the campaign tried to identify the fine line between encouraging children's passion for exploring the wonders of the internet and the role that parents must adopt as guardians of its content.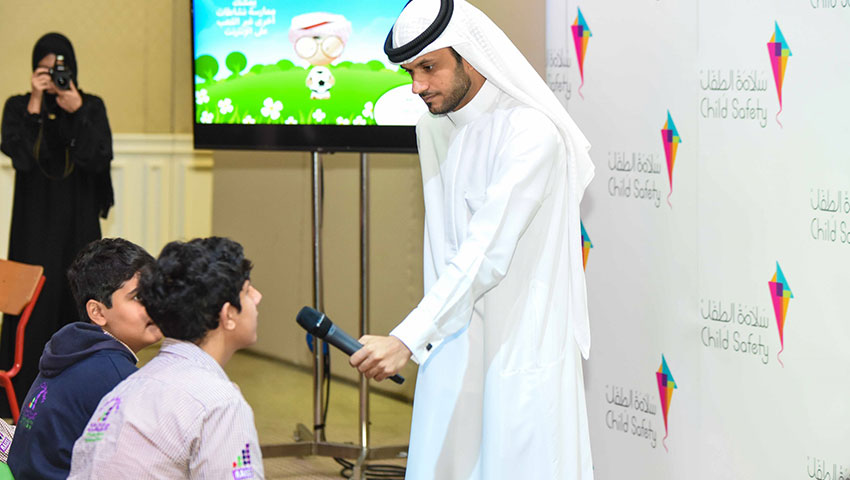 Brigadier Saif Al Zari Al Shamsi, Commander-in-Chief of Sharjah Police, said: "The Sharjah Police Headquarters has always been keen to participate in the Child Safety Campaign's activities since its inception – its role integrates with Sharjah Community Police, which plays a fundamental role in raising awareness about children's safety on the internet."
Al Shamsi noted that the Sharjah Police Headquarters launched an array of similar initiatives and events highlighting the importance of protecting children against all dangers facing them at all levels. He stressed that the Sharjah Police initiative themed 'Culture of Security' targeted schools and parents, and grew after being adopted by the Ministry of Interior under the directives of President, His Highness Sheikh Khalifa bin Zayed Al Nahyan.
Engineer Ghaith Al Mazeina, Director of the Computer Emergency Response Team at the Telecommunications Regulatory Authority (TRA), added: "The TRA's participation in the third phase of the Child Safety Campaign also plays a key role in promoting awareness about information security and ensuring cyber security for internet users, especially children.
"Childhood is not only one of the most precious periods in a human life, it is also the most significant stage of development. All community members must collaborate to prevent any form of online abuse and parents and teachers need to understand this is of paramount importance."
He underlined that the TRA will organise a range of programmes and activities during the campaign, including educational workshops for children at summer camps and schools. The authority will play a part in events lined up throughout the year which will include workshops for local department employees, and lectures for parents across the emirate. It will work with other partners to help protect children from any dangers that may face them while using smart devices and online sites.
Lieutenant Ahmad Zayed Al Busaeedy, from the Khalifa Empowerment Program for Students 'Aqdar', added: "Our programme has launched a spectrum of initiatives and campaigns in line with its efforts to raise awareness about the dangers that face children. We have held 159,000 training workshops at schools and universities since 2015."
"We also launched a smart application in the form of an electronic game to outline the dangers of cyberspace misuse. In addition, we launched the 'Safe School' project this year, measuring the cyber security of ten schools in its first phase, before targetting 100 schools in its second phase," he added.
He noted that the programme not only increases awareness about the importance of children's safety and highlights the dangers that face them, but also educates school children and university students on the UAE's laws and legislations on child abuse.
The conference concluded with a workshop organised by the Telecommunications Regulatory Authority, aimed at educating children and young people on best practices, methods and techniques to protect themselves when they are using the internet in general and social media sites in particular. The workshop also educated them on the steps that should be followed if they come across abusive or inappropriate content.