Child Safety Campaign (CSC), a subsidiary of the Supreme Council for Family Affairs (SCFA), observed Emirati Children's Day – a national occasion observed by the UAE for the first time this year – in collaboration with Sharjah Children, a subsidiary of Rubu' Qarn for Creating Leaders and Innovators.
The celebration comes in line with the Campaign's aim to promote the continuity of its mission, following in the guidance of Her Highness Sheikha Jawaher bint Mohammed Al Qasimi, Chairperson of SCFA, by partaking in important initiatives and occasions focused on children's wellbeing. CSC is also focused on launching a series of innovative and interactive awareness programmes to enhance the skills of childcare professionals who will continue to deliver the campaign's message beyond its seasonal activities and specialised editions.
The celebration, hosted at Halwan Children's Centre, included a series of fun, educational workshops including an interactive discussion on children's rights conducted by one of Sharjah Children's young members Rashid Al Tunaiji; as well as a session on internet safety, organised in collaboration with the UAE Telecommunications Regulatory Authority.
Additionally, children participated in a session titled 'How to say No' that taught children the importance of their bodies' privacy, and how to refuse strangers' requests and offers, delivered in cooperation with the Sharjah Department of Social Services; and they were also able to learn self-defence techniques with a special Karate session held under the supervision of an expert trainer from the Sharjah Women Sports Foundation (SWSF).
Sharjah Children hosted fun games and competitions, an arts corner, a photo booth, and offered several healthy food options for all participants to enjoy, as well as an art mural dedicated to the legacy of the Founder of the UAE, Sheikh Zayed bint Sultan Al Nahyan.
Hanadi Saleh Al Yafei, Department Director at SCFA and Head of the CSC's Organising Committee, said: "Dedicating an annual day to celebrate Emirati children is yet another testament of the great value the UAE's wise leadership places on the nation's youth and its continuous efforts to nurture future generations by providing them access to every opportunity that will contribute to maintaining the rights of each child living in the UAE – particularly as this occasion marks the ratification of the UAE's Child Protection Law (Wadeema) in 2016."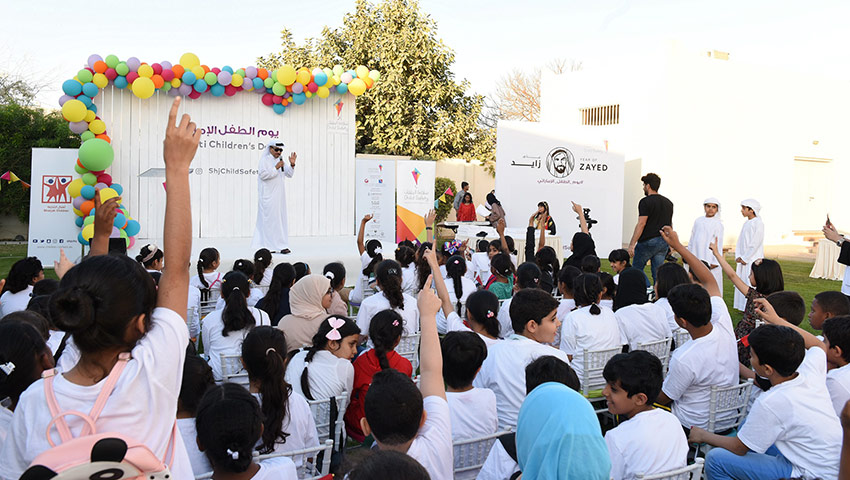 Al Yafei added: "Our celebration of Emirati Children's Day exemplifies our commitment to supporting national initiatives dedicated to children's issues; ones that strive to find solutions to the various challenges that they face, thus strengthening their opportunities for growth and development in a friendly environment embedded with all the care and support they need at this age."
Aisha Al Kaabi, Acting Director of Sharjah Children, said: "The UAE has made great strides in the area of child protection thanks to the support of our prudent leadership, which sets an example to be emulated by other countries around the world."
She continued: "The designation of an annual day for the Emirati children reflects the commitment by all state institutions to safeguarding children's rights guaranteed by international treaties and conventions on child rights. By celebrating this occasion, we aim to highlight the efforts by Sharjah Children to develop the skills of its members through targeted training programmes and activities, guided by the new strategy launched by Rubu' Qarn For Creating Leaders and Innovators."
On the sidelines of the event, CSC distributed over 10,000 greeting cards to Sharjah government employees to mark Emirati Children's Day.