23 children and youth across Sharjah were named 'Cyber Safety Ambassadors', after having successfully completed the assessment and evaluation phase of the initiative that was launched last month by Child Safety Department (CSD), an affiliate of the Supreme Council for Family Affairs.
Three children with hearing impairments were selected among the twenty ambassadors, from a pool of 85 nominees representing various childcare institutions and centres in Sharjah.
The 'Cyber Safety Ambassadors' is a peer-to-peer initiative that aims to raise awareness among children and young people about cyber safety, by providing them required skills, development and training, who will then guide their peers towards best online practices.
The evaluation phase saw the nominees deliver a 5-minute presentation on what is cyber safety and demonstrate how they can best raise their peers' awareness on best safety practices and avoiding online risks.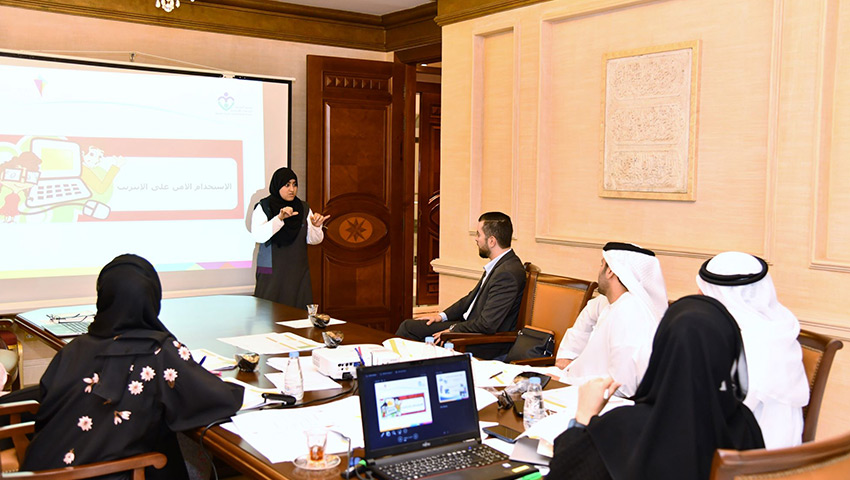 Selected ambassadors include Fatima Abdelraheem, Fatima Farouq Hassan, Saif Obaid Al Suwaidi, Amira Saood Al Amiri, Meera Saood Al Amiri, Salama Saif Al Tunaiji, Moza Mohammad Al Watri, and Rodha Ali Al Salami from 'Sharjah Children'.
Abdelrahman Al Kamaly, Mayed Al Mur, Hamad Juma Ahmad, Ali Darwish Abdelrahman, and Abdullah hamdan Al Dhanhani were selected from 'Sharjah Youth'.
Batool Kifah Al Tamimi, Mayasa Dawoud, Shamsa Al naqbi, and Jamila Al Zaabi were selected from 'Sajaya Young Ladies of Sharjah'.
From the Sharjah City for Humanitarian Services, the committee selected Nemat Ismail, Reda Ismail, and Rashed Al Katbi.
Alya Rashed Duaifes, Hamda Al Marzouqi, and Banna Mohammad Ali were selected from Sharjah Girl Guides.
Ambassadors were chosen by a 4-member jury based on several criteria, including the ability to prepare and deliver a presentation, body language, general appearance, public speaking, performance, language, and having a good command of cyber security-related information.
The initiative's jury was comprised of Hanadi Saleh Al Yafei, Director of CSD, and Lt. Col. Tariq Al Midfa, Department Director of Strategy and Performance Development at Sharjah Police. It also included Eng. Abdullah Al Jallaf, Security Analyst at the UAE Telecommunications Regulatory Authority, TRA, and Suad Al Marzouqi, Head of the Child Protection Unit at the Ministry of Community Development.
The jury examined candidates' awareness about online protection and safety and their rapid response to verify website or links sent to them via their emails. Candidates' knowledge of how to tackle strange or suspicious content, was also highlighted, in addition to their ability to educate their peers about the benefits and risks of the internet, as well their ability to deliver information clearly and respond to questions.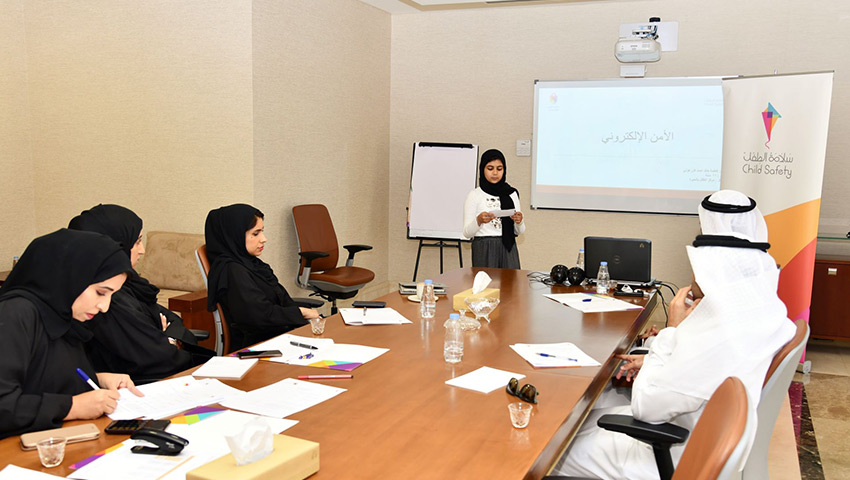 Hanadi Saleh Al Yafei, Director of CSD, said: "The evaluation phase allowed us to explore the skills of children and youth, their incredible connection to technology, and their ability to comprehend its nuances. Children need to be given more responsibility and opportunity to make a positive change in their communities, through initiatives such as this one."
Al Yafei especially commended the participation of children and youth with hearing impairments, who gave the jury insightful suggestions to develop tools and solutions that will help larger segments of children with various abilities, to benefit from cyber safety information and guidelines.
Next steps for the ambassadors will include a two-month training programme to equip them with cyber safety knowledge and communication skills, enabling them to conduct peer-to-peer workshops at summer camps, childcare institutions and public and private schools.
Youth aged 13-18 years, will deliver 10 workshops every year, while children aged 10-12 years are expected to deliver a minimum of 5 workshops.
The initiative was launched by Child Safety Department on March 15, coinciding with Emirati Children's Day, in collaboration with the UAE Telecommunications Regulatory Authority (TRA), Ministry of Community Development (MOCD), Khalifa Empowerment Programme – Aqdar, and Sharjah Police.